GM3WOJ ZL1CT Lattice tower information pages January 2008
Tower photos page - click here to visit the main lattice tower page
Thanks to everyone listed below who sent me photos (captions will be added where possible)
From Don G3BJ :
The main 80ft Versatower at G3BJ with the 40-10m Force 12 Yagi,
and inverted-V dipoles for 80 and 160. In the distance, the 60 ft Versatower
with a 3 element triband yagi. Note the weatherproof covers (i.e. bin-bags)
over the electric winches ! This is a hilltop site, so the tower is well
guyed against strong winds.

An Autumn view of the main 80ft Versatower at G3BJ, carrying a
Force 12 40-10m yagi. The K9AY receiving loop and 90ft Titanex vertical are
also visible
A dull day view of the main Versatower at G3BJ with the 40-10m
Force 12 yagi. In the background is the 60ft Versatower with a three element
triband yagi

From Paul G6PZ :
Three photos of the rescued P100 ground post that was cut off at ground level. The post stub is welded to 2 pieces of 1/4" "H" profile steel girder. As these posts are now becoming quite expensive this was a good way to put this one back in to service :
February 2007 - new 4-over-4 SteppIR stack (see the 'Tower problems' page for photos of the storm damage to the previous antenna system)
From Jan G0IVZ :
Right hand tower : F12-C31XR over C31XR on a Heavy duty 4 section Versatower. Stub mast is 15ft of 2 ½ inch dia 6mm wall alloy with 5ft of steel scaffold tube inside to strengthen through the head unit. This is extended another 15ft with fibreglass to support the 160m inverted vee over the top.
80m delta loop from the head unit.
Left hand tower : Standard 4 section Versatower with 2" alloy scaffold pole. 402CD on top and F12-C3S below. This tower if temporary guyed and raised for contests when needed.
GB5HQ – 40m CW - 2006
Left tower : 5 section heavy duty Versatower with 402CD approx 10ft above head unit.
Right tower : 4 section standard Versatower with 2 ele fixed delta loop approx 15ft above head unit
Another shot of the 402cd on 5 section HD versatower.
Rotary top for top band dipole to allow beams to rotate
below. This is approx 30 ft above head unit.


Elevated guy posts


Modified head unit for twin guying


From Steve GW4BLE :
From Alex GM3ZBE :
'There are easier ways to get to ZL !"
From Mark G4AXX :
Andy G4KNO fitting the guys to the tower
20 & 15 on the M100 next to a 4 ele Cushcraft at 40ft on the Range Rover pneumatic mast (3 photos)
The M100 supporting homebrew 3 ele 20m & 15m monobanders,
and a homebrew 4m yagi for the packet cluster
From Graeme G6CSY :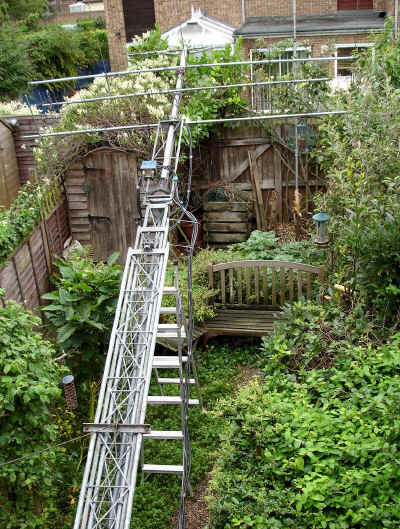 The tower is a 3-section lattice on a base plate hinge and a wall
mounted tilt-over pulley system.

The full extension photo is 20m high with aerials for 23/70/144/70.

The dropped-down photo shows how it is possible to get a tower in to
a very small garden. The clearance on the 6m beam is around 30mm each
side. The apple trees need to be pruned every time the mast has to be
dropped.
From Callum M0MCX :
Visit http://www.mccormick.uk.com/towerproject/index.html
for more photos of this project
From Darren G0WCW :
M6T
From Bob G4UJS :
From Nigel G3TXF :
3 x M80 Versatowers supporting the antennas of the GB5HQ 20m CW station 2006.
There are numerous Versatower photos on the G3TXF web-site.
Just look at each Contest in list of recent activities and you'll find them....

http://www.g3txf.com/

BP60 baseplate
2 photos of BXI Post Mounts converted to Versatower Base Mounts :
Towers awaiting installation at the new MW1LCR station
Versatower wall-mounting frame
Thrust bearing on head unit
From John MW3JNV :
SPID rotator (model RAK) on H2 (?) head-unit Adaptor plate for SPID rotator
From Cambell MM0DXC
CQ WW 2006 - GM2T - some unusual tower and antennas pictures taken from the top of Barnes Ness lighthouse - 30 miles East of Edinburgh on the South shore of the Firth of Forth.
LH photo = 4 ele ZX 20m yagi on 60' trailer Versatower. RH photo = 3 ele KLM 40m yagi on 60' trailer Versatower (plus 15m and 10m yagis on scaffold-pole masts)
From Alan 5B4AHJ :
Alan's new 3-section (9m) fixed tower on his house roof - the top of the tower is about 16m above ground level. The tower is guyed to the corners of the house. A Hazer-style trolley runs up the tower, which allows the OptiBeam OB11-5 to be worked on at roof level, then run up to the top of the tower.
Prosistel PST61 rotator which is used to turn the OptiBeam